Puyallup Fair 2000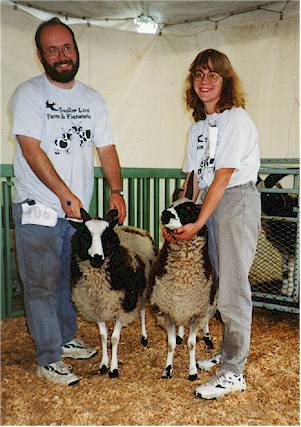 Lavender Festival 2015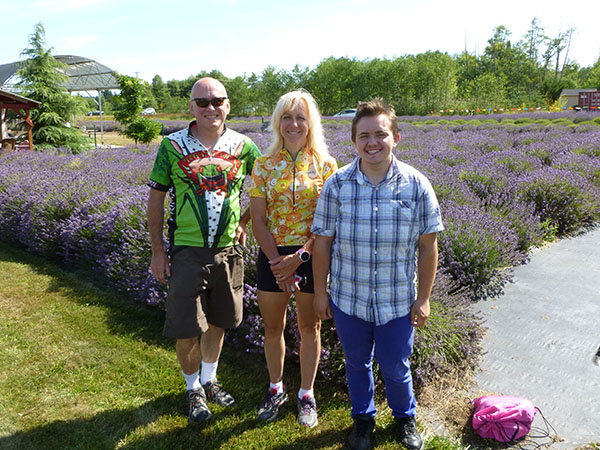 About Us
What is Swallow Lane Farm?
Swallow Lane Farm & Fiberworks is a small family farm and weaving studio dedicated to the preservation and promotion of the Jacob sheep. We produce top-quality registered Jacob sheep and other heritage livestock breeds, fine handwoven blankets, garments and gifts.
Who are we?
Cathie and Mark Williams run Swallow Lane with the help of our kids, Adam and Lee.


Where are we located?
The farm is located in Olalla, Washington, a small town on the shores of Puget Sound. We're about 30 miles north of Tacoma, and mid-way between Gig Harbor and Port Orchard. We're an easy drive from the Seattle area.


How did we get started?
Our story begins with both Mark and Cathie growing up in the Ohio suburbs and wanting something different. To pass the drive time on a college road-trip, we started the "we should have a farm" talk. While we lived in Colorado, Cathie took up spinning and read about sheep breeds. As a wedding present, we received a beautiful Welsh handwoven blanket with a tag reading, "Made from the wool of the Jacob sheep".

Upon moving to the Seattle area, we knew it was time for us to get out of the suburbs, so we bought an acreage and started our mini farm. We quickly discovered that grass grows uncontrollably in our pastures, so we could either mow ("no way" says Mark) or get something to eat it. With Cathie's interest in spinning and weaving sheep seemed like a good idea. After a few trials with Romneys, we found our first Jacobs - a pair of wethers - and learned that our region was home to one of the largest and oldest Jacob flocks in the country. The next year (1992), we bought breeding stock and began our journey.

Twenty years later we are still breeding Jacobs. Along the way we've learned a few things and figured out what's important. We are dedicated to promoting heritage breeds, self-sufficiency, local food and a sustainable lifestyle. We see the Jacob as a viable livestock breed - not a novelty or "boutique sheep". We believe that even though they are beautiful and rare, Jacobs should be managed like livestock, not pets or zoo animals.



Puyallup Fair 2000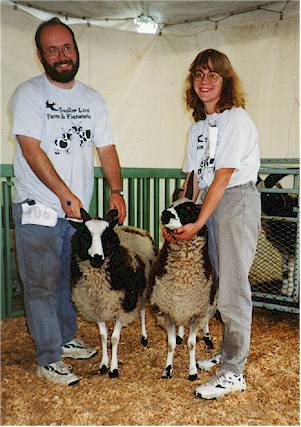 Lavender Festival 2015